Free online exercise classes
Instructor Sarah Weller, Clinical Exercise Physiologist holds online exercise classes for cancer patients three times a week live on Instagram.
The classes are held  from 11 am to 12 pm EDT to help you get active, build strength, improve fitness and increase flexibility:
Tuesday: Building Strength (beginners)
Helps you build strength while your are treated for cancer or after you are finished ; no equipment required.

Thursday: Building Stamina (all levels)
Will include aerobic exercise, strength, balance and flexibility exercises no equipment required
Saturday: Stretch & Strength (all levels)
Will use dumbbells to help build strength (30 minutes) and finish with whole body stretching to improve flexibility (30 minutes
How to join
Create an account or join your Instagram account
Follow Treloar Physiotherapy Clinic on instagram – @treloarcrp

Once Treloar Physiotherapy Clinic "goes live" it will show up at the start of your stories feed (at the top of page when looking at your feed).

Click on @treloarcrp profile picture or find their profile picture in Stories to access live class.

They are live at 10.55 am and class starts at 11 am.

Set yourself up with a mat and/or towel

Any issues, message Treloar Physiotherapy Clinic on instagram.
You may also want to join live training sessions every Thursday on Facebook with Isabelle Brisson and Guillaume Bastarache, kinesilogists at the Fondation Virage, CHUM (in French)
See details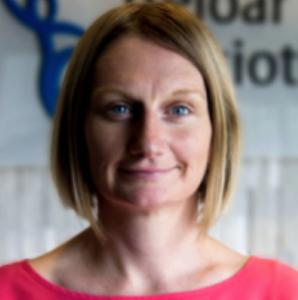 About Sarah Weller
Sarah is a Clinical Exercise Physiologist who has specialized in working with individuals with cancer since 2005.
​
She is passionate about helping people use exercise as a supportive medicine to overcome the side effects of cancer treatments (e.g.
fatigue
), improve physical function and to optimize overall health.
Sarah integrates the latest research evidence into her exercise programs, to ensure the most scientific approach to your care.
She works with people with all types of cancers, at all stages, receiving all treatment combinations and specializes in advanced cancer, bone health (including bone metastases and osteoporosis), exercise during treatments and fatigue reduction.
More on sarahweller.ca