National Caregiver Day
Recognizing caring Canadians
From 5 minutes to an hour or even days, no amount is too small to show you care
8 million Canadians provide unpaid care to support someone with a long-term health condition, a physical or mental disability or problems related to aging. While caring can be an incredibly rewarding experience, it can also be overwhelming physically, emotionally, socially and financially. In fact, 21% of caregivers spend 20 hours or more/week on caregiving responsibilities that can range from helping with daily activities to providing complex medical care.
Every Minute Counts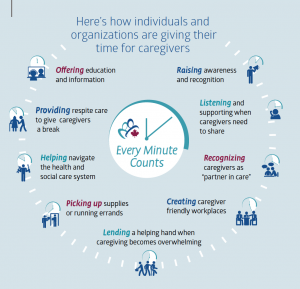 Every Minute Counts reinforces the value of caregivers to Canadians. Join the National Caregiver Day campaign and share the time you give to caregivers because they matter.
Help us add 100,000 minutes in the global caregiver time clock by sharing the time you give to caregivers. From 5 minutes to an hour or even days, no amount is too small to show you care. Every Minute Counts.
Pledge your minutes at carerscanada.ca
Share your pledge
Special National Caregiver Day offer at all Rexall drugstores in Ontario, Western provinces and online in New Brunswick. See coupon on this link.