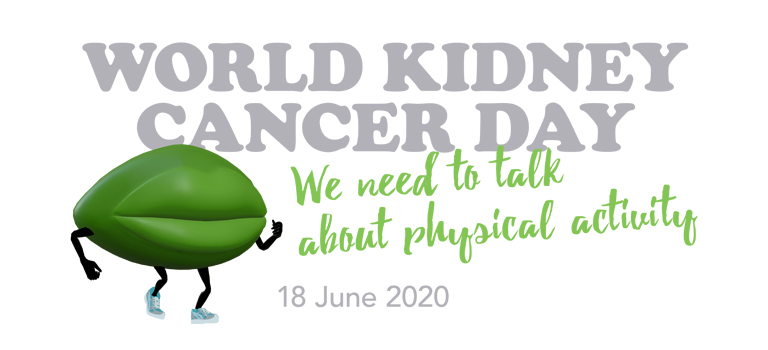 World Kidney Cancer Day promotes physical activity for both the prevention and treatment of kidney cancer
Ten years ago, if you were diagnosed with any cancer, you'd probably be told to rest and do as little physical activity as possible. Today, you're more likely to be told the opposite. Studies now confirm the beneficial role that regular physical activity plays in both the prevention and treatment of many common cancers.  Which is why the theme for this year's World Kidney Cancer Day on June 18 is:
We need to talk about physical activity
"The evidence supporting the benefits of physical activity is growing every day," commented International Kidney Cancer Coalition (IKCC) Chair, Dr Rachel Giles. "But currently three out of four kidney cancer patients worldwide aren't doing even the recommended minimum, with half doing no physical activity at all".
The face of this year's World Kidney Cancer Day campaign is Dr Linda Trinh, leading expert on physical activity and cancer, from the University of Toronto in Canada. Across a series of campaign videos, Dr Trinh talks about how physical activity can make a huge difference to both kidney cancer prevention and improving the treatment outcomes and quality of life for those who have it.
Studies show even moderate physical activity can reduce your risk of getting kidney cancer by up to 22% and improve treatment outcomes by up to 15% if you have been diagnosed. The benefits aren't just physical. It can also reduce cancer-related anxiety and depression and improve general wellbeing and quality of life. Given a recent IKCC study showed that 96% of kidney cancer patients worldwide experience psychological problems, 30 minutes exercise 3 times a week can be life changing.
Visit our World Kidney Cancer Day web page for information and video on the importance of exercise,  to download the comprehensive physical activity guide created by Dr Linda Trinh and her colleagues and much more!
World Kidney Cancer Day
Mark your calendars – June 18!
10 – 11 am EDT
Exercise with Audrey Beauséjour, Kinesiologist, Fondation québécoise du cancer (session in French)
12 – 1 pm EDT
Cooking at home with ELLICSR Kitchen and Kidney Cancer Canada featuring Geremy Capone, Wellness Chef and Stephanie Gladman, Registered Dietitian from ELLICSR Kitchen of the Princess Margaret Cancer Centre.
2 – 3 pm EDT
Exercise with Dr. Linda Trinh, Assistant Professor, Exercise and Cancer Survivorship, University
of Toronto
We wish you all a great World Kidney Cancer Day